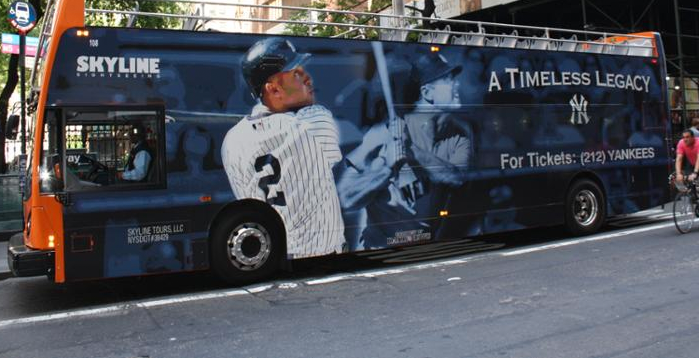 Transit Advertising Advantages
›
---
There are many transit advertising advantages that your company can utilize to run a successful marketing campaign. With different transit advertising options such as vehicle wraps, bus ads, mobile billboards, taxi, subway and rail ads, there are always opportunities available. Due to their mobility, transit ads can be seen in different locations throughout the day. Transit advertisements can't be turned off like television, they can't be skipped like digital ads, they can't be changed like radio stations. They offer exclusive flexibility when it comes to OOH (Out-Of-Home) advertisements. Let's take a look at some transit advertising advantages.
Vehicle Wraps
Vehicle wraps offer flexible advertising options due to their design and cost. With varying sizes and models of cars everywhere you look, you can choose a vehicle wrap that perfectly fits your advertising campaign. Although size and wrap style (partial or full) are both important cost factors, vehicle wraps cost only about 35 cents per 1000 impressions! Compare this to radio, TV, newspaper and magazine advertising which can cost anywhere from $7-$23 per 1000 impressions according to consumer research company Nielson Audio. 
Bus Ads
If your company is looking to draw attention from a big city audience, bus ads are a great option. Bus ads are very flexible in that you can choose from many sizes, designs, and placement options. Bus wraps are eye-catching due to their size and eye-level placement. Interior bus advertisements work great for passengers to read while they are sitting down and relaxing. Buses travel in the most urban areas taking passengers to and from work, home, school, and some of the other prime locations in the city. You are sure to make an impact using this transit advertising option. 
Mobile Billboard Trucks
Mobile billboard trucks offer many transit advertising advantages but the biggest is targeting desired customers with specific travel routes. You can design routes that capitalize on peak times and locations that allow your mobile billboard to be seen by thousands of potential customers. Whether you are driving on the road during rush hour or parked near a highly-populated area, this advertising option offers flexibility, unlike others.
Subway and Rail
With millions of people riding the New York City subway each day, it is easy to see why subway and rail ads are one of the advantages of transit advertising. According to the International Association of Public Transport, there are metro systems in 178 cities in 56 countries carrying an average of 168 million passengers a day. One of the great things about subways is that the passengers have wandering eyes as they wait to get to their destination. With many options available as to where you can place ads on subways and metros, you will always be able to get the amount of engagement you are looking for. 
Taxi
Taxi ads are a great way to advertise due to taxis being used in the largest cities in the world. These advertisements are flexible and can be placed on taxi tops, trunks, cabs and they can even be wrapped around taxis using vehicle wraps. Thanks to taxis being used at the busiest areas in the city, taxi ads generate a huge amount of impressions and they can even make your taxi stand out compared to a generic-looking taxi. 
---
Hopefully, these transit advertising advantages helped steer you in the right direction. Now, travel over to BillboardsIn to start your transit ad campaign today.