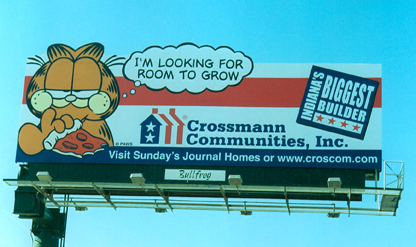 What Do Billboards Advertise?
›
---
Today we are going to answer the question, "what do billboards advertise?" The short answer is everything. Billboards are used to promote businesses, brands, and products in every industry. In a time with emerging technologies and mobile smartphones, there are plenty of new ways to deliver targeted advertisements to consumers, but the one advertising format to stay on top of the advertising landscape is outdoor advertising. From traditional billboards to interactive digital displays, wallscapes and transit advertising, outdoor advertising is everywhere. Any industry can take advantage of the huge reach out-of-home (OOH) advertising offers! We are going to discuss how a few industries take advantage of the benefits of outdoor advertising.
Education Outdoor Advertising
Whether you are advertising a college, universities, trade school, private and even a public school, OOH can get your school in peoples' minds and help increase enrollment. Billboards will drive potential students and parents to your website to learn more about the school. By adding billboards to your marketing campaign, you will see a huge spike in online interactions!
Political Outdoor Advertising
Elections go by fast. Billboards are a quick way to brand candidates and encourage voters to learn more about the candidate's platform. For a political campaign, both traditional and digital OOH formats are ideal. A traditional billboard will be a consistent message that will be a daily reminder of the politician and puts a face to the campaign. Digital billboards can be used to broadcast real-time updates and even provide countdowns to special events or election day.
Restaurant Outdoor Advertising
OOH advertising is an extremely effective advertising medium for the food and beverage industry. Restaurants utilize billboards to drive customers to their doors. By advertising on busy highways with lots of travelers and commuters, restaurants target drivers when they are on the go and hungry!
Outdoor Advertising of Lawyers 
Billboards bring awareness and familiarity with your practice. Having your face and name on a giant billboard will create awareness for your firm or practice. People driving by your advertisement every day will begin to associate your firm with a familiar face. When they need a lawyer, your name and face will pop in their mind immediately!
Car Dealership Outdoor Advertising
What better place to advertise to motorists and drivers than on the road? With a high-impact image, you can grab drivers' attention. Billboards are proven to drive online interactions, by combining OOH marketing with online advertising, data has shown a 12% increase in vehicle purchases. Along with increasing online interactions, billboards can advertise the latest model on your lot or direct people straight to your dealership!
Real Estate Outdoor Advertising 
OOH advertising is a smart investment for both new and established agents. With many realtors out there, billboards make you stand out. Billboards are hard to miss, and with a great design, people will remember your message. Outdoor advertising opportunities are everywhere so you can place your advertisement right in front of your target audience!
Local Business Outdoor Advertising
Local business can greatly benefit from billboard advertising. Connecting your advertisement to the locals gives your brand a sense of belonging in the community. Billboards will bring in new customers eager to support local business. Billboards are a great way to make a big impression in your area!
These are just a few examples of industries that use billboard advertising. With new technology surrounding OOH, industries can continue to get creative with their billboard advertising. For any industry, an OOH campaign will bring awareness to your brand and increase online interaction. According to OAAA, adding OOH to other campaign advertising increases mobile 316%, social media 212%, traditional TV by 18% and Radio by 45%.
Now that we have answered, "what do billboards advertise," check out BillboardsIn to get your OOH campaign started!