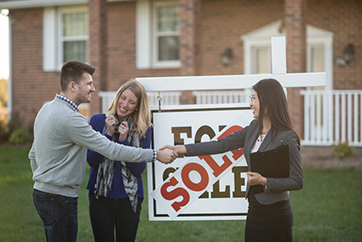 Selling Houses? You Should Be Buying Billboards!
›
---
Are you a real estate agent weighing your advertising options? While you have a lot to choose from, billboards and other out-of-home advertising formats — such as bus, train, taxi, and kiosk ads — are a smart investment for both fledgling and established agents. Let's take a look at some of the ways billboard advertising can give you a new lease on your professional life.
Stay In Budget
Much like the housing market, billboard prices can vary depending on where you are. Generally speaking, it's safe to assume that billboards are surprisingly affordable. They're cheaper than television, magazine, and newspaper advertising. Outdoor ads deliver the best value—in terms of cost-per-thousand impressions—of any type of advertising, including digital.
Choose Your Target Audience
Since billboards are physical ads, one of the most obvious ways to reach the people you want is to put billboards in the actual neighborhoods you are selling in. However, thanks to new technological advancements in mobile and location data, many billboard locations are now able to provide detailed demographic statistics, such as age, gender, and even household income. This ensures that you are able to reach the exact audience that you want to.
They Work
Billboards work. They're huge, they're hard to miss, and if you're clever about design, they're highly memorable. According to the OAAA, of those who have seen an outdoor ad:
41% are more likely to learn about the brand being advertised
70% say outdoor ads are very, or somewhat likely, to influence a purchase
58% search the web as a direct result of seeing an ad
55% use mobile and social media to share information while viewing an outdoor ad
35% buy a product after seeing an ad
Go Digital
In recent years, we are seeing many static billboards move to digital. Digital billboards allow you to share updates or exciting news with your current or potential clients in real time. Show off your new listing or recent sale. Many allow you to share updates right from your favorite social media platforms, too!
High Reach
Reach refers to the number of people who will see your ad at least one time during a campaign. Placed in a high traffic area, such as a highway or a near a popular park, your billboard has tremendous reach. If you are already utilizing other ad formats, adding a billboard to your marketing mix is a great way to tremendously extend your reach. This can be done by supplementing your billboard with a digital or social campaign or purchasing multiple billboards.
Raising Awareness
There are a lot of realtors out there. How can you make yourself stand out? Having potential clients see a giant version of your face, website, or phone number on their daily commute is a great start. Billboards are very effective for creating awareness for services and products; repeated exposure can even create an emotional bond with people over time. That means your clients can start to like you before they even meet you.