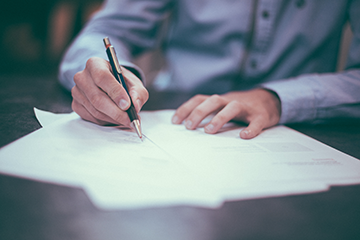 Outdoor Advertising for Lawyers
›
---
Using outdoor advertising for lawyers or law firms is a great way to get your name out to the public and attract new clients! Out-of-home (OOH) advertising comes in many forms such as billboards, bus, train and kiosk ads. Whichever OOH format you choose, an outdoor advertisement will make you and your firm stand out! Let's take a look at a few reasons why outdoor advertising is a great marketing tool for lawyers.
Creating a Brand
Having your face and name on a giant billboard will create awareness for your firm or practice. People driving by your advertisement every day will begin to associate your firm with a familiar face. When they need a lawyer, your name and face will pop in their mind immediately! Having an OOH ad will help your firm create a brand and drive clients to you.
Choose Your Target Audience
You can place your outdoor advertising almost anywhere you want. Placing a billboard along a highway or other high traffic area will result in a huge audience reach. You can also place OOH in certain neighborhoods and areas you want to attract certain clients. New technological advancements provide detailed demographic statistics, such as age, gender, and even household income for many billboard locations. With a little research, you can find the perfect location for outdoor advertising for lawyers and choose your target audience!
Stay in Budget
Billboards are a cost-effective way to advertise for your firm. Outdoor advertising is 80 percent less expensive than TV, 60 percent less expensive than newspapers and 50 percent less expensive than radio. Not only are billboards the least expensive form of traditional advertising, but they also fit seamlessly into your existing advertising campaign!
OOH Works!
Using outdoor advertising for lawyers or law firms is an efficient way to make a huge impact on consumers. According to OAAA, seven out of ten people have seen OOH in the last month. Of those who have seen an OOH ad:
41% are more likely to learn about the brand being advertised
70% say OOh is very, or somewhat likely, to influence a purchasing
82%  search the web as a direct result of seeing an OOH ad after 5 exposures
Make your firm or practice stand out with outdoor advertising for lawyers! Check out BillboardsIn to get your outdoor advertising campaign started!