Billboards in Japan
›
---
Since the mid-1830s, billboards have been an effective form of advertising around the United States. With big-name players (like Netflix and Spotify), local advertisers, and the occasional individual sending out a personal message for someone important, billboards have proven to be hot across the country. 
But even outside of the U.S., billboards are used to create vibrant advertising campaigns, and one of the most prominent countries regarding out of home (OOH) advertising is Japan. 
When you think of Tokyo, you probably imagine bustling streets with bright screens flashing Japanese-style art on every street corner—maybe you're even picturing Shibuya Crossing itself, or you're remembering that one specific scene from Alice in Borderland (you know the one). 
Japanese advertisers are masters of the craft that is OOH advertising. With their unique art style, wild imaginations, and bold ideas, agencies in Japan have consistently used digital OOH marketing campaigns to leave a lasting impression on both locals and tourists alike, and the industry is only continuing to grow. 
Japanese copywriters have held a firm grasp on the global idea of copywriting in advertising by actively trying to "hit the heart." They use minimal language to create a lasting message for their audience, which is one of the essential rules for designing a billboard ad.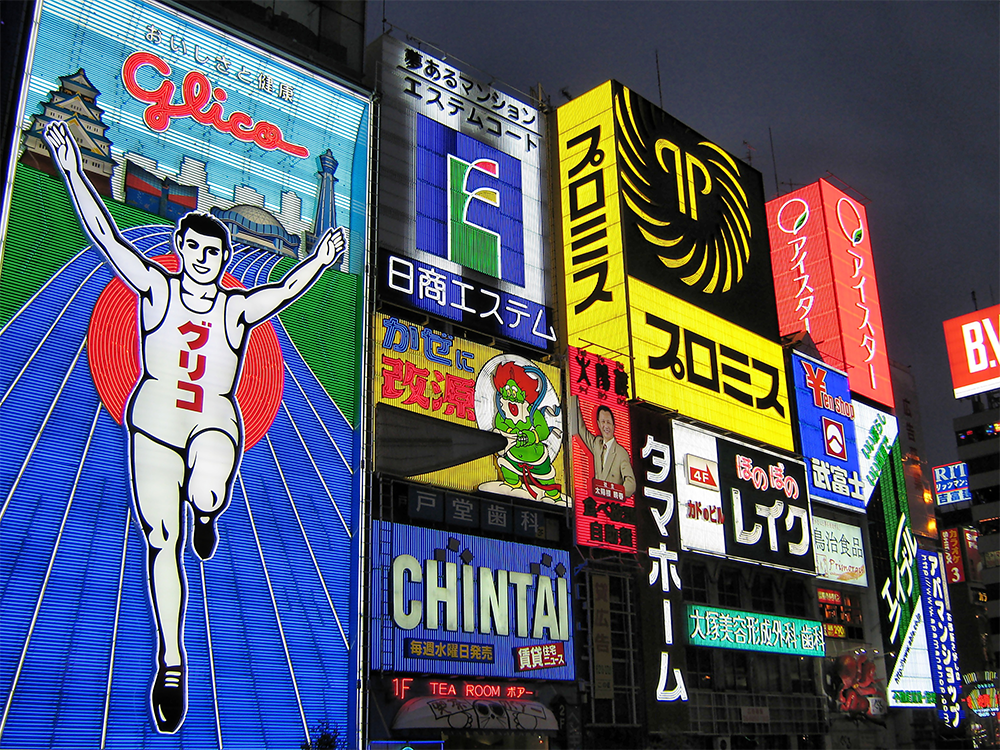 Japan also has fairly distinguishable and unique art styles, especially recently in manga and anime. By using bright colors, bold lines, and easily recognizable characters, advertisers can display their skills and effectively communicate their message. 
For example, this wallscape for the action game Honkai Impact 3rd in the entertainment district of Akihabara displays recognizable characters, the name of the game, and methods for downloading. Additionally, this billboard advertising the popular anime Demon Slayer's new film uses recognizable characters, Demon Slayer's signature art style, and easy-to-read date and other information. 
Japan is also known for its "kawaii" (かわいい) culture, and advertisers make heavy use of popular, aesthetically pleasing characters, like Hello Kitty on this Sanrio-wrapped bus. 
Aside from just the unique art styles and the inclusion of popular culture, many urban areas in Japan have some fairly recognizable digital OOH staples that have even turned into tourist attractions. The Glico Running Man, for example, has become a landmark in Osaka that is regularly updated with different backgrounds from across the globe. Another example is the large screen on the side of the Studio Alta building in Tokyo. 
Additionally, this 3D cat made headlines earlier this year when it popped up on a curved digital display in Tokyo: 
今日の15時半ごろに現地で撮られた映像です。雑踏が思いのほかうるさいので、声の大きさは調整しなきゃ。再生時、音量注意です!⚠️ pic.twitter.com/8OsmcyyVOo

— 新宿東口の猫 (@cross_s_vision) July 5, 2021
Going into 2022, it looks like billboards will continue to be a continued method for advertising globally, but we're especially looking forward to what fun Japanese advertisements will bring to the table.