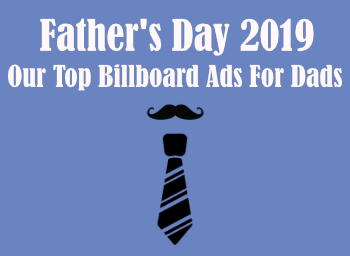 Father's Day 2019 – The Top Billboard Ads For Dads
›
---
This year, on June 16th we take the time to recognize our fathers and all the things they have done for us. Father's Day is a great opportunity to advertise products that are likely to be gifted to dads everywhere. In this post, we will showcase some of our favorite Father's Day billboard ads from the past.
---
Happy Father's Day!
To celebrate, we are running some dad jokes on a few of our digital boards today. #fathersday #dadjokes #ooh
design: Leanne Gayle pic.twitter.com/bBViIjAlo9

— Lamar of Oklahoma City (@LamarOKC) June 17, 2018
Who doesn't love a good dad joke? One of the best ways to get people to think about something is by utilizing nostalgia. This digital billboard featuring different dad jokes will make you smile and think about your father as you pass by on the highway. Even if the jokes do not make you laugh, you will be reminded of your dad and be prompted to wish him a Happy Father's Day!
---
We love this #experiential #billboard from @marshalls that launched in Manhattan's Flat Iron district especially for #FathersDay 🙌. #OOH #FathersDay #Advertising

READ MORE > https://t.co/UAR66lFLux pic.twitter.com/oGPSgFQtFU

— CitySpace Media (@CitySpaceMedia) June 18, 2018
Interactive advertisements are always a great way to promote your business as well as get free publicity through shares on social media and word of mouth. In this Father's Day advertisement, Marshalls gave away free gifts to passersby just for sharing a dad joke. The gift was chosen at random, and a certified climber would even climb up the wall to grab the gift for you! This billboard advertising experience is sure to be one that you will never forget.
---
Fire up the grill! 🔥🔥🔥 It's almost time to celebrate Dad. #fathersday@ButcherBoyMrket #ButcherBoyMrket #Boston #billboard #advertising pic.twitter.com/XDtA2UxLL4

— Clear Channel Outdoor (@CCOutdoorNA) June 12, 2018
What better way to get people to stop into your store than using a billboard featuring a juicy steak with a great message? As you're traveling down the road, a giant mesmerizing steak is guaranteed to catch the eyes and tastebuds of food lovers everywhere. As if the steak wasn't enough, this billboard shares a message that will guilt anyone into stopping by your store. Butcher Boy Market shows us how to run a great Father's Day advertisement with this billboard ad.
---
Has anyone spotted our billboard in Talbot Green yet? Say it with beer this fathers day and if you've more than one special man in your life why not pick up 2 minikegs for £40 at the brewery shop (offer ends 2pm Saturday) – we also have £15 gift packs. #fathersday #sayitwithbeer pic.twitter.com/KQ0EaokDwF

— Glamorgan Brewing Co (@GlamBrewingCo) June 15, 2018
One of the biggest complaints of Father's Day is that people are not sure what to gift their dad. One of the things you can never go wrong with is beer. Glamorgan Brewing Company uses the uncertainty of what to gift fathers to their advantage. Using the simple phrase "Say It With Beer" this OOH advertisement shows that the gift you've been looking for has been in front of you the whole time.
---
Did these fatherly 'boards inspire you? Be sure to check out BillboardsIn to get started on your Father's Day campaign today!