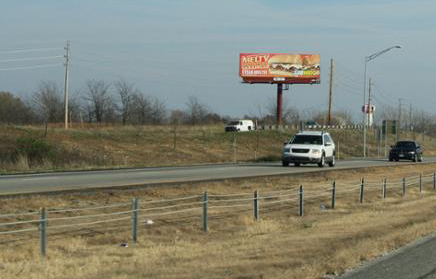 Billboards and Restaurant Advertising
›
---
Restaurant advertising plays an important role in the food and beverage industry. Advertising your restaurant with outdoor media, like billboards, drives sales and raises awareness for your business. Restaurant billboards not only promote brands as a whole but announce new menu items and direct customers right to your front door. These billboards target your audience when they are on the go and hungry! Today we are going to take a closer look at how restaurant advertising with billboards works!
On the Go
Restaurant advertising only has a few seconds to capture drivers' attention. The best way to reach your target customers is with an eye-catching design and a clear call to action. Drivers, more often than not, want a quick meal nearby. Adding directions can be beneficial for travelers and your business. According to the OAAA,  40% of OOH media viewers have noticed an ad that provided directions to a specific store, business or restaurant location. Advertising on the highway close to your restaurant will also bring in hungry customers off the road.
Keep it Fresh
Use your restaurant advertising to promote the newest menu item. Restaurants need to keep their billboards fresh to continually bring in repeat consumers. Showcasing an item that people have not had before peaks interest and drives hungry customers to your door. 16% of OOH viewers have visited the advertised business immediately after seeing the directional OOH ad.  Heighten your odds further with a concise message and clear image. Keeping your message and promotions fresh with restaurant advertising brings in new and repeat business!
Billboards Work!
Billboards are extremely effective when it comes to restaurant advertising! Americans spend an average of 20 hours in their cars a week, all the while absorbing roadside billboards. They are visible 24/7 and cannot be turned off or skipped like other media formats. This means that billboard advertising has your audiences full attention! With 71% of Americans consciously look at billboard messages while driving, so your restaurant billboard will be seen by lots of hungry people looking for a place to eat!
Hungry to add billboards to your restaurant advertising campaign? Check out BillboardsIn to get started!