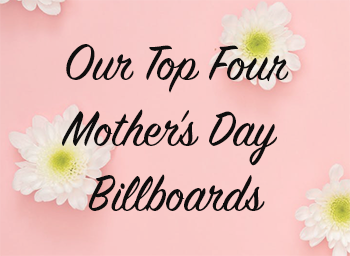 Our Top Four Mother's Day Billboards!
›
---
With Mother's Day approaching on May 12th, we have put together a list of four outstanding ads that have been used to show appreciation to mothers on their special day. From interactive to persuasive billboards, these ads excel at showing love to mothers everywhere. Let's take a look!
---
MothersDay is this Sunday, and to celebrate early, we're throwing it all the way back to 2012 and this inventive #billboard that allowed passersby to send 🌹Mom🌹 a Mothers Day greeting. pic.twitter.com/okxQGqDBKr

— Outdoor Network SA (@outdoornetsa) May 10, 2018
This billboard is not just innovative, it is free advertising as well. By making this billboard interactive, people passing by will stop to take a picture and share the advertisement all at no cost to the company. Whether you are promoting a holiday, product, or place, an interactive billboard such as this is sure to draw attention.
---
Lamar Advertising Wants Your Mothers Day Wishes on Its Billboards http://t.co/Zjdjl3JJ2w pic.twitter.com/PkMHJnRmKi

— Adrants (@adrants) May 7, 2014
Lamar Advertising helps spread the love for mothers everywhere using this clever digital billboard. By uploading an image onto Facebook or Twitter with a mothers day message and using #InspiredByMom, people everywhere were able to show love for their mothers with a simple post. There is no guarantee that your mother will see the message on the billboard but at no cost to you, this is a very cool way to publicly show your mom how much she means to you.
---
My Mum was chosen among hundreds of other Mothers to be given a special Mothers Day billboard in Brooklyn&Manhattan pic.twitter.com/0evyiwPTrX

— Gurpreet (@g_kaur423) May 6, 2016
Ad agency Mother New York ran this series of ads featuring mothers of its employees with quotes and advice that they gave. The goal of these advertisements is to showcase the important messages that our mothers gave us on a daily basis as well as remind us that Mother's Day is coming up. These messages are relatable, and they are sure to remind you to show love to your mother on her special day this year.
---
Style runs in the @Coach family. Find something for you and something for Mom. #MothersDay #CoachNY #OOH #outofhome #outofhomemedia #outofhomeadvertising #simonmedia #foundatsimon #simonmediaexperiences @BrittenInc @ShopOntario @wcpremoutlets @MillsatJersey @SanFranciscoPO pic.twitter.com/cXHctOvBEs

— Simon Media & Experiences (@simonmediaexp) May 9, 2018
With Mother's Day comes gifts. Coach reminds you to get your mom something special from their store with this series of mall advertisements. With images of products featuring a message about showing mom the love, this is a great tactic to persuade customers to shop in their store for the perfect Mother's Day gift.
---
Whether you're interested in a billboard to celebrate your mom or your business, head over to BillboardsIn to get your campaign started today!