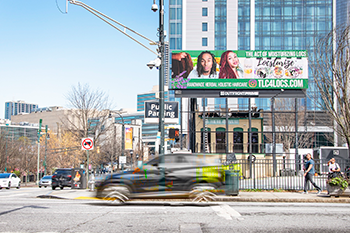 How to Buy Out-of-Home Advertising
›
---
Here at BillboardsIn, we like out-of-home (OOH) advertising…a lot (it's kind of our favorite thing)—but we understand that the world of buying advertising can be a confusing place, and if it's your first time buying an ad, you may not know where to start. Luckily, our second favorite thing is making complex things simple, so here's our guide to buying OOH advertising!
Plan
The first step in buying any advertisement is determining which formats best fit your goals and budget. We offer a wide range of advertising types, from traditional OOH formats like billboards, benches, and transit shelters, to new innovative ad types like Hulu commercials, mobile retargeting ads, and digital truck screens.
You will also want to decide for how long you'd like to run your ad. Traditional formats run in 4-week cycles, but they can be shortened or extended to fit your needs. We're here to help you build and customize the perfect campaign—so don't be afraid to ask for exactly what you're looking for!
Purchase
Now that you've decided which formats are perfect for you, it's time to check out. Once you've selected your desired date ranges, you can click the "add to cart" button. Once you're in your cart, you have the option to select additional options, such as custom artwork review, a blog post about your business, and other add-ons. Select one of the payment options that works best for you, and you're good to go!
Once you've submitted payment and reserved your ads, you can start working on artwork! We've got lots of resources on our website to help you create a flawless ad that fits all the necessary specifications. And if you purchased custom artwork design, we will do all the heavy lifting for you!
Proof of Posting
Whew, all the hard work is done! Now all you have to do is sit back and wait for your ad to be posted on the week you have selected. Traditional OOH ads have a 5-day grace period for posting (to account for weather delays, staffing issues, and other setbacks), but rest assured that you will receive all of your purchased advertising time. Once your ad is posted, we will send you the proof of performance—typically in the form of photos of your ad up and running, or a campaign report of metrics (proof varies depending on the type of ad you've purchased).
In Conclusion
Buying advertising for the first time is no small feat—but that's why we're here to help you with every step of the process. Hop on over to Billboardsin.com today to schedule a consultation with one of our advertising experts, or start browsing our list of OOH options!