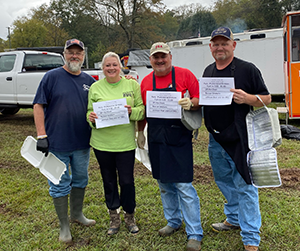 Client Spotlight: Red White and Blue BBQ
›
---
Sanctioned and run by the Georgia BBQ Association, the Red White and Blue BBQ is a pitmaster event held by the Cherokee County Homeless Veterans Program in which professional teams compete for $12,000 in prize money and trophies to raise funds for veteran suicide awarness and veterean homelessness. 
In addition to professional teams, amateurs will also be competing in the event for non-cash awards and People's Choice Honors. 
10 veteran organizations including the American Legion, Marine Corps League, VFW, and DAR have come together to make the event happen.
They are also hosting the traveling replica of the Tomb of the Unknown Soldier, which is a scaled down replica of the real Tomb of the Unknown Soldier in Arlington National Cemetery. 
The news release reads: 
"This is the 2nd annual event for the Red White and Blue BBQ and we are looking

to host this event every year around Veterans Day", noted John Bruss from VFW

Post 5262 in Canton and event committee member. "Cherokee County has over

15,000 Veterans and over 8 Veteran Service Organizations (VSO) and we are very

proud to be part of the larger Cherokee County community", he went on to add.
Sponsorships are also available, and those interested can reach out to Jim Lindenmayer (jlindenmayer80@gmail.com), Betty Lewis (betty55@windstream.net), or John Bruss (john_b1966@comcast.net). The entertainment contact is Cheryl Dana (cheryldana60@gmail.com). 
The event will be held Saturday, October 29, and more details can be found on the Cherokee County Homeless Veterans Program website and Facebook page.