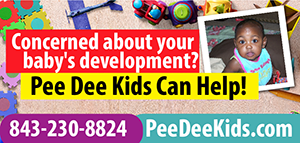 Client Spotlight: Pee Dee Kids
›
---
At Pee Dee Kids, T'Challa Y. Douglas, owner and Early Intervention Supervisor, is providing quality, family-centered early intervention services to children up to six years old, by doing family training viits in the child's naturall environment, like home or daycare. 
Douglas believes that every child grows at their own pace, and has made it Pee Dee Kids's mission to provide quality care, with a goal of ensuring that close, personal attention is provided to each family. 
Pee Dee Kids currently provides in-home early intervention to clients in: Darlington, Florence, Dillon & Marion Counties; some parts of Chesterfield, Horry, Lee, Charleston, Berkeley, and Dorchester Counties.
Douglas explained early intervention as follows: 
"Early intervention is a system of services that helps babies and toddlers with developmental delays or disabilities. Early intervention focuses on helping eligible babies and toddlers learn the basic and brand-new skills that typically develop during the first three years of life, such as: physical (reaching, rolling, crawling, and walking); cognitive (thinking, learning, solving problems); communication (talking, listening, understanding); social/emotional (playing, feeling secure and happy); and self-help (eating, dressing)."
Douglas originally wanted to be a music therapist, but changed her major to psychology after realizing that she wanted to work with families in a different capacity. After graduating, she was unsure regarding what kind of work she wanted to pursue, and worked a couple of different jobs, including being a social worker and a HASCI Coordinator. 
She received her MA in Mental Health Counseling in 2005, and that's when she really began to understand that the earlier the services began for a child, the better. 
"I was then blessed to obtain a job as an Early intervention Specialist and that's when I realized that I've found my calling," she said. "That was in 2008 and I haven't looked back since!"
Douglas says that what makes Pee Dee Kids different from other early intervention providers is that they treat every client like family, and each staff member has over 10 years of experience. 
"Pee Dee Kids also prides itself on not having a high employment turnover rate," she said. "Two of our early interventionists have been with Pee Dee Kids for 5+ years. We truly love what we do."
Parents must complete the initial intake process with BabyNet to determine eligibility, and if the qualify, they will be offered a choice of providers. "Because we are a smaller early intervention provider we are able to provide and maintain quality family centered services," Douglas said. 
For more information, you can visit their website.