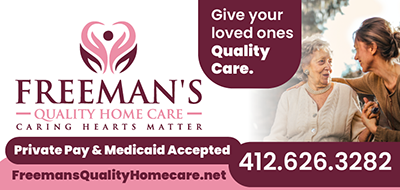 Client Spotlight: Freeman's Quality Home Care
›
---
For the past two years, Freeman's Quality Home Care has been providing non-medical services to seniors, adults, children, and others who may have disabilities or need assistance. 
Services include light housekeeping, laundry, meal preparation, medication reminders, local errands, bathing, transfer assistance, transfer assistance, dressing assistance, and personal hygiene. They also provide companionship, respite, and end-of-life services. 
Through hiring direct care workers like CNAs, HHAs, and PCAs to provide that care, Freeman's is able to provide quality care for their clients. Additionally, staff are required to undergo rigorous training on both caring for clients and also professionalism.
"We pride ourselves by hiring professional and knowledgeable, caring staff," the owner, La Shawnda Freeman, said. "We also assist with everyday assistance such as meal prep, doctors appointments, laundry, housekeeping, assistance with business calls, and paperwork."
Freeman decided to start the business when her father developed a blood disorder, experienced kidney failure, and had eight strokes. "He was our strength and when he fell ill we had to make sure that we were there for him like he had been for his children so it was important to take this personally and provide the best caring services for the community," she said. 
Freeman is looking to get both her company name and her mission out into the community, and hopes that her billboard campaign will help make that happen, as well as to bring in some new staff members.