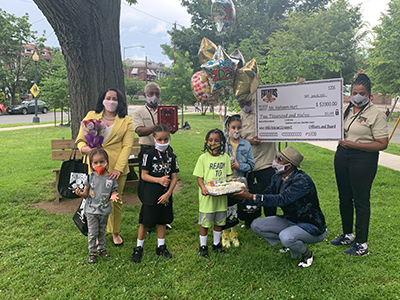 Client Spotlight: Father's Incorporated—Father of the Year Award (Hampton Roads, VA)
›
---
Father's Incorporated is a non-profit organization that has been focused on promoting the values of brotherhood, manhood, fatherhood, and gentlemanship since 1987. 
They currently have four programs in place to encourage men and fathers to both accept and recognize their roles in their families and communities: the Returning Citizen Program, which assists incarcerated, nonviolent men reconnect with their families and communities; the Intergenerational Program, which brings together the elderly and youth; the Scholarship Program that offers grants to encourage male students to become nurses; and the Father of the Year Award. 
The Father of the Year Award "identifies, acknowledges, and rewards deserving fathers from US cities experiencing high rates of violence, family, and community and affliction." 
"The Father of the Year Award receives its impetus from Genesis 19.15-25 – the story of how God spared a city from complete destruction because of the faith of one righteous man," Ernest Woodson, founder and president, said. 
"The Father of the Year Award is made to a 'deserving father' living in the midst of chaos, mayhem, and confusion who changed his life, the life of children, family, and community for the better," he said. "The goal of the award program is to positively change the hearts and minds of men and fathers and encourage the concept of family and community."
In 2023, the award will be given to the winners of Hampton Roads, VA with their families and friends on June, 17. 
Fathers are chosen after being considered for a number of factors, including not only their achievements from the previous year, but also their past achievements and even ongoing contributions to their family and community. 
The winners of the award are 'deserving fathers' who were nominated by family members, friends, or others who know them to be exceptional fathers and viable assets to their families and communities," Woodson said." The deserving father is selected by receiving the overall highest score through a competitive selection process."
He also mentioned that a background check is conducted, and that there is a personal interview with the board in the final step of the selection process.  
The nomination form can be found here, and more information regarding Fathers Incorporated and their programs can be found on their website. 
[Photo: 2020 award program with the Board of Fathers and the deserving father with his family.]