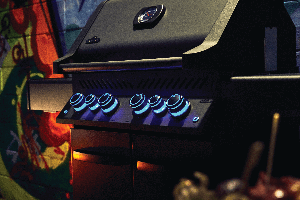 Client Spotlight: BBQ Authority Chicago Showroom
›
---
I previously wrote a blog post on BBQ Authority giving a general overview of the products and special brands that they offer. Put simply, BBQ Authority is a one-stop-shop for all your barbecuing needs. From sauces, rubs, grills, pizza ovens, and more, people can expect premium products, many of which are only available through them. 
The focus of this post, though, is something even more exciting!
Enter a World of BBQ
BBQ Authority has a showroom located at 1704 Ogden Ave. in Lisle, Illinois. This showroom is the perfect place to experience the products up close before making a purchase. While online stores make it incredibly convenient for people to make purchases in their homes or on the go, seeing products in person and being able to ask questions can make for a great shopping experience. 
By visiting the BBQ Authority showroom, people can bask in the stainless steel glory of such grills as Napoleon and FireMagic. At approximately 5,000 square feet, the showroom offers a variety of products from the finest BBQ brands out there.
BBQ Authority sees grilling as a beautiful passion. To them, a grill isn't something that just churns out food, it's a powerful piece of equipment that deserves immense care and respect. This is a point that the company wants to get across. 
When talking about challenges the business has encountered, Adam McMahon, co-president of BBQ Authority, said, "Getting people to understand that there is so much more to grilling than a propane cart grill."
Showroom Deals & Discounts
When purchasing from the showroom, BBQ Authority is offering free local delivery and installation of grills over $999. In addition, grills that are purchased for over $999 will result in 20% off all accessories on the day of your purchase.
Another deal is centered on BBQ Authority's exclusive hot sauce and rub called Special Formula No. 4. With a purchase of $20 or more in sauces and/or rubs, you become entitled to a free bottle of Special Formula No. 4.
Marketing & Future Plans
Outside of BillboardsIn, BBQ Authority has advertised over physical and digital mediums, including magazines, shopping networks, and more. There are even radio advertisements going out over the Chicago area to promote the showroom. 
After their expansion in Chicago,McMahon talked about their future plans for other cities in the U.S. 
"We have large customer bases in Indiana and Southeast Wisconsin. While we have no immediate plans, those would be the most natural moves in order to better serve those customers."
With so many different pieces of equipment, from outdoor kitchens to smokers,McMahon believes that grilling can be a year-long thing. No matter your needs, BBQ Authority is there. Unlock your grilling passion by visiting their Chicago showroom!