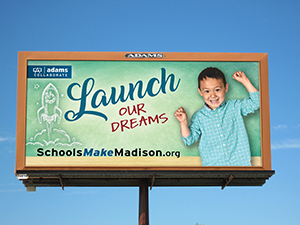 Billboards for Schools
›
---
Billboards for schools are a perfect way to raise awareness about education options in the local community. Similar to the blog post covering healthcare service billboards, the topic of schools in a local community is important. 
Promotion Ideas
School billboards can take on many forms of promotion. Businesses that offer supplies, bags, and other accessories can utilize school-themed billboards. For instance, a boutique and craft store could benefit from promoting their product and services to kids and parents. Clothing stores could also benefit from launching a billboard around the back-to-school season. Kids are going to need new threads for the school year, so this is the perfect time for a clothing business to promote itself.
Layout Tips
Color is the foundation for any great billboard. To find the right color, it's a good idea to utilize the colors of the school that is being promoted. Outside of using school colors, using a light green background color is a good choice as it symbolizes a classic chalkboard. An example of that can be seen in the featured image of this blog post. The image comes from the Madison Public Schools Foundation, which launched a billboard campaign called "Schools Make Madison." The objective was to highlight actual students in the school district and celebrate the beauty of education. 
If the school centers around K-12, then having a nice stock photo of some kids or teenagers would be a good visual element to have. Take it a step further by showing kids with textbooks or a student writing in a notebook. The best pictures are the ones that tell some type of visual story. Even better: use real photos of students from your school. 
In regard to text, include brief information, such as the location of the school, the website, grade levels, etc. If you offer competitive tuition, then consider highlighting that by including the base price on the billboard. As always, keep in mind that a billboard should not be chock-full of text. People will only have a limited amount of time to view it before passing by. 
Location
Another key factor for an effective billboard is deciding the location where it will be posted. Each school might have different demographics that they want to go for, but let's touch upon the traditional target audience. Posting a school billboard near a suburban community is the ideal spot for a target audience. Inner-city communities are a great choice as well.
If you're in the world of education and looking into an advertising campaign, start by signing up at BillboardsIn.com—we'd love to help you!