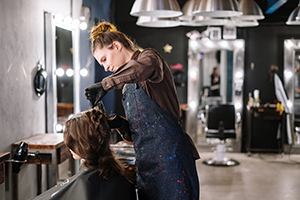 Billboards for Salons
›
---
We've written previously about billboards for the cosmetics industry, but what about switching to the service side of the beauty industry and considering billboards for salons, spas, or other cosmetologist services? 
Many salons (and salon-adjacent businesses) are small businesses, and that means that choosing the right advertising medium can be daunting. Factors like return on investment (ROI), impressions, and ease of advertising can be stressful to consider when making a marketing decision, and we're here to show you why outdoor advertising is an exceptional option. 
Billboards offer plenty of room for creativity, and showing off your goods. 
One of the most important aspects to focus on when undergoing an outdoor advertising campaign is the design. Billboards should be bold, captivating, and readable, all while effectively portraying the message at hand. 
By using photos of stunning hair colors and styles, imagery of someone relaxing in a spa, or even a photo of an employee performing a service, viewers will immediately grasp the concept of the ad and engage with the rest of the ad. 
Billboards reach local audiences (and people love supporting local businesses). 
For local salons, using billboards to target people who live and work in the area is essential. By advertising the close proximity, potential clients will be further attracted to trying out your business. Getting a haircut, eyebrow wax, or other quick service on a lunch break or on the way home from work is pretty tempting!
Billboards are a cost-effective advertising option. 
According to the OAAA in 2017, billboard advertising results in a 497% ROI (return on investment). That means for each $1 spent, an average of $5.97 is sold—higher than digital, print, and radio. 
Additionally, the average CPM (cost per thousand impressions) is lower than most other formats, averaging between $2 and $7 (source).
Essentially: 
Out of home advertising is a wonderful way for salons, spas, and other beauty service businesses to get their names out in their communities. Create your campaign on BillboardsIn.com now to get started.