Billboards for Repair Companies
›
---
There's a wealth of repair companies across America, and a good way to stand out from the others is to utilize billboard marketing.  
If you want to grow your customer base, billboards are a great tool for doing so. Maintenance problems arise in everyone's lives, whether it's plumbing, remodeling, and more. People don't always know which company they should turn to for the services they require, that's when it's important for repair companies to market themselves. 
Even if someone doesn't require maintenance services right now, a company that's in the public's eye is more likely to be remembered later on when their services are required. 
Breaking Down the Elements
On your billboard, it helps to include pertinent information that will convey the gist of your business in under 10 seconds. Being upfront about your pricing is a good idea—people care about value. In a market filled with competitors, the value you offer someone is paramount to maintaining business.  
It's also not a bad idea to have a "human element" on the billboard. This means having an image of a person, whether that's a stock photo of a smiling repairman, or a plumber working on some pipes. The important thing to remember, though, is that the image should be professional and presentable in nature; a staged picture, if you will. Taking a raw picture of a plumber trying to fix a filthy toilet is probably not the most appealing thing.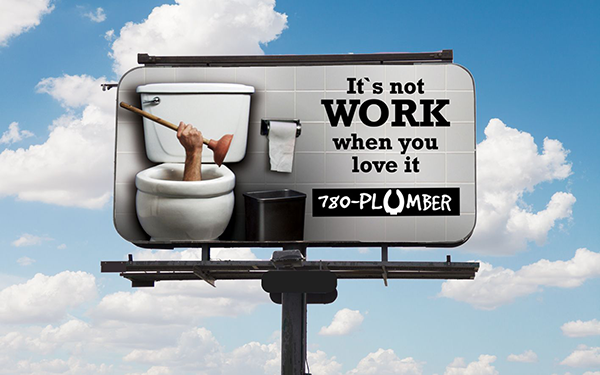 Fun and Creative Elements
Humor is a great way to grab peoples' attention. Check out this following example involving plumbing services.
Repair work isn't the most glamorous job, but instead of going for a sterile and bland billboard, consider getting creative with it. Whether they need repair services or not, people are more likely to remember a billboard that makes them laugh, or at the very least, has engaging visual elements. 
Let's say a repair company offers multiple types of services and wants to mention them on their billboard. Instead of just listing off a few of them with plain text, add some graphic icons next to each one. For plumbing, a graphic of a pipe with a water drop coming out would work. Or, for electrician work, having a plug graphic alongside the text.
Billboards serve as very effective advertising for repair companies, and we'd love to help you make one happen for your company! Create a campaign on. BillboardsIn.com to get started.