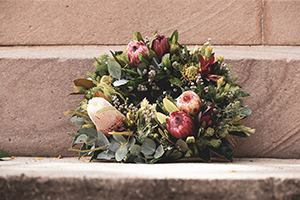 Billboards for Memorials
›
---
Most of us have experienced the passing of a loved one, whether that's a family member, close friend, or even a pet. We want to honor and appreciate these special individuals in whatever way we can, because they deserve all the love and respect in the world, even after they're gone. Many people publish obituary articles in their newspaper to let the community know about their passing, in addition to holding funerals and ceremonies to commemorate their lives (although it has been reported that the traditional funeral format is becoming less utilized today—instead, memorial services are becoming more popular). Another way to honor somebody after they've passed is by creating a memorial billboard.
Why Use a Billboard as a Memorial?
There are a lot of great reasons to use a billboard to commemorate the life of someone close to you. One reason is that you can reach a large audience easily; it has been reported that 71% of U.S. drivers pay attention to the messages on a billboard while driving. This means that a large portion of people who pass your board will get to see the highlights of the life of your loved one.
Another reason why a billboard can be a special display for a departed loved one is because it is a large space to showcase all sorts of special details about their life. Passersby can see photos, dates, and important information about the person on a big and bold display.
Memorial Design Ideas
This type of advertisement is one of the most personal designs you could create; so, the content if the board should be subjective to whatever you please. With that in mind, there are a few general design elements that you may want to consider when creating a board. The first is how long a viewer has to see your board. The 3-second rule is one metric you can use, which assumes that your viewer has just 3 seconds to process all the info you've put on your board.
It's also a good idea to keep your wording concise; while you include the information you want to include about the individual you're commemorating, but if possible, condense it into a few choice words that make an impact. Large images, names, and dates go a long way to get your message across.
To Sum It All Up
Check out billboardsin.com today to see if any of our options suit your needs!