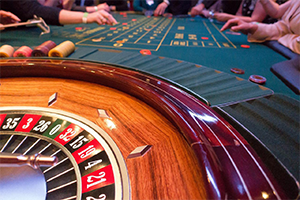 Billboards for Casinos
›
---
Poker, roulette, slots, blackjack; casinos are an extravagant way to play games and have fun as an adult. A little money and a little luck are all you need to have a good time. Locals and visitors alike should be made privy to the casino options in their city, and a billboard can be the perfect way to show it off.
However, along with fun sometimes comes some rules to follow; casinos have some unique regulations, which can make advertising them a bit tricky. We'll look at some of the issues that can arise when promoting your casino, as well as interesting and creative ways to advertise.
Advertising Restrictions for Casinos
Casino advertising used to be much more heavily restricted in the U.S., but by 1988, state lotteries and charitable gambling were removed from the forbidden-advertising list. By 1999 it was determined that banning the advertising of gambling in states that permit gambling and casinos was a violation of the first amendment. Rules on how and what you can advertise varies per state, but, for example, in New York, the main rules of gambling advertisements center around not targeting those under 21, both in ad placement (like putting an advertisement in a place particularly populated by minors) as well as ad content (i.e. showing a minor partaking in a casino game).
Currently, almost every U.S. state permits gambling in some sort of capacity (with the exception of Utah and Hawaii, which both have a 100% ban on all forms of gambling). Additionally, 42 states in the U.S. today currently have casinos.
Ideas for Eye-Catching Casino Billboard Designs
Now that we know all about the rules associated with casinos in the U.S., we can look at some fun ways to display them in an advertisement.
One way to advertise is to play up the luxurious quality of the casino; going out to gamble is an extravagant event, so using rich colors and bold imagery to convey this theme is a great way to draw in potential customers.
Another potential element to include in your advertisement is a snapshot of the whole experience, beyond just the gambling elements. This means the food, drinks, and general atmosphere of the casino. It has been reported that the amount of money spent by casino patrons on the non-gambling parts of the casino experience is actually slightly more than that spent on gambling. Showing the whole picture of what you can experience at your casino is a great way to draw in an even larger customer base.
Why are billboards a good idea for advertising casinos?
Billboards are a great choice for advertising casinos for a multitude of reasons.
One of the big reasons to advertise a casino with a billboard is for the awareness. A poll conducted by the Innovation and Brand Research Specialists showed that 72% of people said their reason for not visiting a casino is because they just don't ever think to go. Posting a striking billboard is a great way to clearly display this form of entertainment to those who may not have a casino trip on their radar yet.
Billboards and other forms of out of home advertising also have a high return on investment. For every $1 spent on out of home advertising, it is reported that a business can receive $5.97 of revenue. This rate of return is higher than that of digital, radio, and print advertising.
To Wrap it All Up
Creating a stunning billboard can be a great way to show off all the features your casino has to offer. Visit billboardsin.com today to start designing yours today!