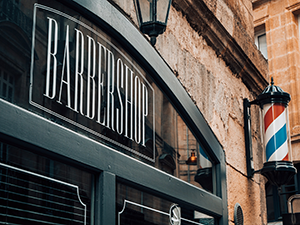 Billboards for Barber Shops
›
---
Barbershops are the classic spot people picture when they think of men's grooming. Many shops sport the iconic red, white, and blue barber pole on the exterior, cementing a nostalgic and timeless look that many attribute to these haircutting businesses. But these shops don't just cut hair, they often offer additional services like beard and mustache trimming and scalp massages, and they also often sell specialty hair products alongside.
Demand for barbers is actually on the rise, too—so how do you set your shop apart to make sure that potential clients pick you among the options? Well, one way to do so is through an out of home advertisement like a billboard. We're going to show you why this type of advertisement might be the perfect choice for your shop.
Set Yourself Apart from the Competition
There are a lot of compelling reasons for why you should consider using a billboard to advertise your barbershop. For one, it helps to set you apart from other barbershops. There are over 109,000 barbershop businesses in the US today, which employ thousands of barbers. On top of this, the need for employment of barbers and hairdressers is expected to grow by 19% from 2020-2030, which is a lot faster than the average demand for other industries. People need and want barbers, and so using a big and bold display to entice your audience to pick your shop is a great way to draw customers in.
Show Off Your Features in a Highly Recognizable Way
Billboards also help you to show off your features to a large audience. By using a big and noticeable advertisement that passersby can see, you can help to differentiate yourself from other competitors by creating name and brand recognition. One report states that 71% of drivers actively notice the display on a billboard as they pass by—which means that you can reach a large amount of perceptive people by using this advertising format.
Take Advantage of a High ROI and a Low CPM
Another cool feature of OOH (out of home) advertising is its great ROI (return on investment). The Out of Home Advertising Association of America reported that for every $1 spent on OOH advertising, businesses tend to see a $5.97 rate of return (which is a whopping 597% ROI). Additionally, the CPM (cost per thousand views) of a billboard is quite low compared to other ad formats. Many advertising formats like newspaper and magazine, television, and podcast have CPMs of around $10-39, while bulletins, posters, and transit shelters stay in the range of around $2-10. This is a significantly lower amount, which contributes to the appeal of OOH advertising.
To Wrap Everything Up
Don't wait another day—visit billboardsin.com right now to see which of our advertising options best suit your barbershop!