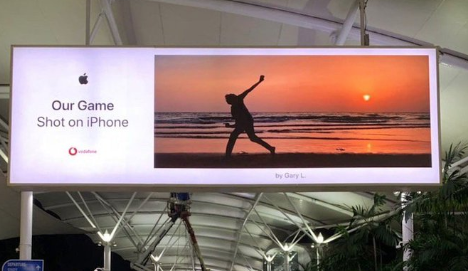 Apple Billboard Ads
›
---
Have you seen these Apple billboard ads? In 2015, Apple began the "Shot on iPhone" campaign that started one of the company's biggest marketing campaigns to date. The mission of this campaign was to have iPhone users all around the world capture images on their iPhone to be used on billboards, commercials, and other various ads. Apple already had billboards promoting new products and services, but they now had enough material to run one of the largest billboard ad campaigns ever, using photos taken by strangers. This campaign featured user-taken photos on 10,000+ billboards across 25 countries. Here are some of our favorite Apple billboard ads.
---
World's tallest Apple billboard in Dubai? http://t.co/ZQROHt434b #apple #billboard #dubai #ad pic.twitter.com/90GqSpzPuv

— Bruce Brothers (@BruceBrothers) March 4, 2015
This Apple billboard demands the attention of viewers due to the size of the billboard. Though it was still being installed when this picture was taken, we can see the majority of this huge billboard ad. Near the bottom of the billboard is the famous "Shot on iPhone" message that has become a very popular phrase in Apple's billboard ad campaigns. 
---
#Apple new film Is part of the #ShotOniPhone #campaign, #films & #billboard Series#OurGame https://t.co/kakDuFdQCR pic.twitter.com/V0Ks3sM9dY

— Campaignsoftheworld (@worldcampaigns) July 10, 2019
Not only was billboard marketing part of the strategic plan of Apple, they even created short commercials with iPhones just like the one pictured. The commercial "Our Game" was captured on an iPhone and showed great video capturing the game of Cricket. This billboard was located in an airport in India where the game of Cricket is very popular. Many billboards similar to this were placed in other areas of India as well to help advertise "Our Game" and Apple alike. 
---
.@Apple took yet another dig at Google (@madebygoogle). With it's latest #billboard the former made fun of the questionable #privacy policies of the later. Take a look…#Apple #Google pic.twitter.com/Xb16Ebm7R2

— iGeeksBlog 📱💻🖥⌚️👨🏻‍💻 (@igeeksblog) July 10, 2019
Although this billboard doesn't feature the phrase "Shot on iPhone," Apple makes many billboards just like the one pictured. The message is a play on Google's privacy policies that were questionable to the public. Sometimes a great marketing strategy can point out flaws in your competition. When it comes to privacy, this is a very important issue. Apple takes advantage of Google's lacking terms by advertising itself as a better company when it comes to privacy.
---
This #Apple #billboard spotted in the metro exit at Bryant Park, NYC. Thank you to Andres! pic.twitter.com/1TCOrYYIoh

— Jill Lian (@jillllian2) August 18, 2016
This billboard captures the beauty that can be photographed with an iPhone. Located in a New York City metro station, this billboard will be seen by tens of thousands of people a day. Due to the quality of the image, people will be more inclined to buy an iPhone so they can capture high-quality images like the one pictured. A great advertising strategy is to show the capabilities of your products!
---
#Apple Watch #LiveBright#OOH #Wallscape #GoWherethePeopleAre pic.twitter.com/B5hxqYBpa8

— Capitol Outdoor (@capitoloutdoor) May 19, 2017
Did you know that Apple Watches are waterproof? Well, this Apple billboard ad is here to show you that they are. Similar to the metro advertisement above, Apple showcases the capabilities of its products to incline customers to buy them. When smartwatches first began to hit the market they were a huge hit. Apple went the extra distance to ensure that they had the most functional smartwatch available with abilities such as waterproofing. Due to Apple putting in the extra work needed to make its watch the best available, they have continued to dominate the smartwatch market. 
---
Now that you have seen the impact created by Apple billboard ads, start your own billboard campaign at BillboardsIn.com.