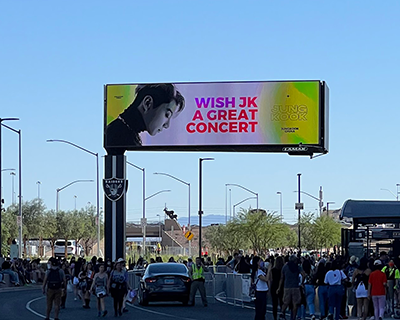 Advertising for Events
›
---
Advertising for an event can be tricky, as there are quite a few factors that go into planning an ad campaign around one, like date, location, and theme. 
Some advertising formats may be better choices for choosing how to promote your event, depending on those factors. 
Digital Billboards
Digital billboards are a great way to advertise an event. Many digital billboards allow for flexible timelines, both in often being able to start running on short notice, and choosing specific days and times ads are displayed. 
For example, traditional billboards typically run on 4-week cycles, with a specific end week rather than an end day. On a digital billboard, you're able to stop running your ad the day of or after the event takes place. 
Digital Billboard Trucks 
Similar to digital billboards, digital trucks are able to be super time-specific, right down to the day, and can follow just about any route you like. 
This would be a great option for advertising an event as it's happening, like a fair or carnival. Ads are displayed on both sides of the truck, as well as on the back, and as the advertiser, you would get to choose the route that it follows throughout the day, reaching a nearby audience. 
These are also sometimes able to play short audio clips, which would be a great way to advertise a musician or concert. 
Digital Kiosks
Like the other formats above, digital kiosks are fairly flexible when it comes to advertising timelines, but they are also typically sold in packages, meaning that your ad would be scattered around the city for a wider audience. 
In Summary: 
Advertising for an event doesn't have to be as hard as it may seem! There are plenty of digital ad options available, including some we didn't list above, like TV screens in gyms or restaurants, gas station pumps, airport screens, and even ATM screens. 
Get started advertising your event now at BillboardsIn.com, and follow us on Facebook, Instagram, and LinkedIn for more information and advertising inspiration.