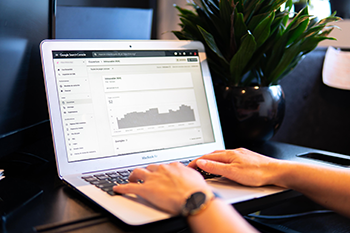 SEO Tips for Small Businesses
›
---
SEO stands for "search engine optimization," and its purpose is is to optimize websites, web pages, and content to rank higher in search engines such as Google.
SEO is a tool to improve the appearance, positioning, and usefulness of many types of content in organic search results. By implementing SEO best practices, you will drive more traffic to your page and generate more sales. Small business SEO falls under the umbrella of general SEO but with a targeted approach and fewer resources. 
Benefits of Small Business SEO
One of the top benefits of small business SEO is increased awareness. With more visibility on the search engine results page, the more likely it is that people will see your listing and reach your business.
Another main benefit is increased traffic. The more you optimize your online presence using SEO, the more traffic you produce. This results in more people viewing your website and social media profiles and potentially buying your products and services.
Finally, SEO allows you to reach your target audience early in the buyer journey. When you provide quality content that targets pain points users experience early, you are able to connect with your target audience and grow trust in your brand.
Choose the Right Keywords
Take time to think about what kinds of words clients might use when searching for your products or services on the web. Make a list of 15-20 keywords and then verify if they are frequently used with online keyword tools. Use your keywords on each of your website pages so that they will rank higher when customers search using those keywords.
Build Links to Your Site
The more sites that have links to your site, the higher they will rank on searches. It is also important to focus on the quality of links. One link from a source that has greater credibility such as from a university or government website will benefit your page more than links from unknown blogs.

Publish High-Quality Content Often
The purpose of search engines is to help people find answers to their questions. Hence, the best plan of action to produce high traffic is to create compelling content including articles, videos, and photos that provide value to your readers. In addition, make sure to update your content often so that it stays relevant to current readers. 
Leverage Social Media 
Social media is a great supplement to your SEO strategy due to people using social media platforms as search engines. With the rise of e-commerce, people often search for companies or products using Instagram for example. Moreover, your company's social media profile can also appear in search results when people search for your company. 
Ensure Your Website is User-Friendly
Make sure that your website is easy-to-navigate and immediately clear to visitors who you are and what you offer. 
Use many headings to improve readability and add your keywords to them. Headings stand out for search engines and will keep your rankings higher.
Ensure that your site speed is up to standards. You risk your visitors leaving your page if your site is too slow making it difficult to navigate.
—
Ready to kickstart your next billboard campaign for your small business? You can start by making a campaign using BillboardsIn. We will help you every step of the way from helping you find the perfect location and even assist with designing your ad!
You can also find us on Facebook, Instagram, or LinkedIn for more information.