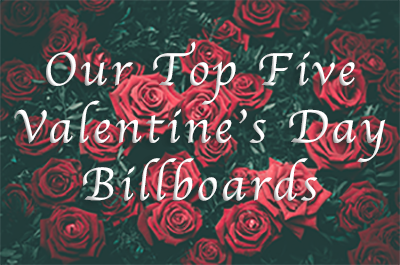 Our Top Five Valentine's Day Billboards
›
---
With Valentine's Day right around the corner, billboards are switching gears from the Super Bowl to hearts and love. Check out our top five Valentine's Day billboards!
---
Nice @SNICKERS Valentines day work from @AMV_BBDO. Each of the 15 billboards have 300 replaceable cards that can be peeled off – cute! pic.twitter.com/O68JPTf7UX

— Charlotte Hugh (@Charlottehugh1) February 14, 2017
Snickers used their iconic tagline to save Valentine's Day. This billboard had 300 replaceable valentines pedestrians could peel off and take to their loved ones. Snickers is also reminding you to grab some chocolate, more specifically a Snickers, to gift alongside the card.
---
LOL Deadpool billboard advertising as a Romantic Comedy to get women to want to see it for Valentines Day! pic.twitter.com/UgPxXK0dfZ

— Jay (@MorninAfterKill) January 11, 2016
With Deadpool's premiere on Valentine's Day, the movie created billboards that looked like it was for a romantic comedy. Marketing Deadpool as a rom-com captures the attention of an audience that would not normally be interested in the action/comedy but is a laugh for those who know what the movie is really about.  Whether people managed to trick their significant others into seeing what they thought was a romantic comedy or simply just made people laugh, this billboard was perfect for Valentine's Day!
---
With Valentine's Day approaching love is in the air and in the minds of many. But here in Columbus it's also on a billboard: literally. #loverules@DanaeKing tells you about 1 man's effort to spread love across the nation & the local man who helped him: https://t.co/Fk9kqipbWk pic.twitter.com/HwnuqkAN0F

— Encarnacion Pyle (@EncarnitaPyle) February 6, 2019
This billboard is incredibly simple. With only one word and the bold red, this billboard is hard to miss! With no intention to sell anything, this billboard it stands out and reminds people what is truly important. Just in time for Valentine's Day, this billboard's intention is to spread love.
---
@Calum5SOS Hope ur loving Valentines Day, Australia misses u😘 I love u and i got this put on a Billboard in Melbourne pic.twitter.com/PjALI5AXoV

— isabellatobar (@5seconds_jacks) February 14, 2015
Telstra allowed people to send in their names to be displayed on their digital billboard for Valentine's Day. They got people involved in their advertising and created excitement for people to see their names lit up on the huge bulletin. This tactic guarantees people sharing pictures of your billboard all over social media, reaching thousands of more people than just the billboard alone!
---
Don't leave your Valentine's Day shopping for the last minute! @swarovski #OOH #ValentinesDay pic.twitter.com/sb2snkbbgJ

— OUTFRONT (@OUTFRONTMEDIAUS) February 5, 2019
This simple design showcases the perfect gift for Valentines Day. The billboard's placement is great! It is at eye-level in a busy area and is the only thing to look at as pedestrians ride down the escalator. Swarovski's billboard has a clear call-to-action stating where the store is located and the special valentine's day sale.
---
Find your billboard match at BillboardsIn and get our Valentine's Day outdoor advertising campaign started!