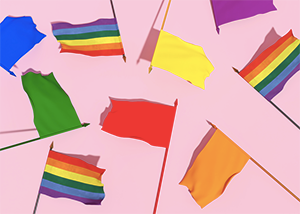 LGBTQ+ Friendly Design Tips
›
---
Consumers are increasingly looking for brands that push for social change in equity and representation. Brands are no longer being held accountable by many consumers for just their services and products, but also their stance on current political and social issues. 
This is especially true for LGBTQ+ community. Advertising to the LGBTQ+ community is a way for brands to demonstrate their inclusivity and diversity and recognize and celebrate their diverse customer base, which builds a loyal customer following. A recent study by Kantar showed that 65% of consumers say it's important that the companies that they buy from actively advocate for diversity and inclusion in their own business and on a societal level.
Advertising to the LGBTQ+ community gives brands the opportunity to show their commitment to LGBTQ+ values and take a stand for social justice, which in turn connects their customer base and promotes equality, acceptance, and social change. 
Whether you are advertising for pride month or incorporating mindful LGBTQ+ designs on your products, here are some design tips to help your brand support the LGBTQ+ community.
Design Tips
Be Mindful of your Messaging
Make sure to speak authentically to the LGBTQ+ community to avoid stereotypes and misrepresentation. It is all about making the LGBTQ+ community feel seen so make sure that you are directly speaking to the community by gathering input from first-person sources rather than speaking for them.
Representation
The LGBTQ+ community encompasses many identities and your designs should reflect this by including representation of diverse races, gender identities, and sexual orientations. 
Include LGBTQ+ Creatives 
When designing your campaigns, make sure to include artwork and designs by LGBTQ+ artists and designers themselves. You can invite creatives to make the designs for you or release a line of products as a collaboration with an LGBTQ+ artist.
Think Beyond the Rainbow
Although the rainbow is an important symbol of pride, there are plenty more ways to express support to the LGBTQ+ community. For instance, there are bisexual and and transgender pride flags that you can include in your designs to help make them more specific and inclusive for pride advertising. You can also take a stance and spark social change like the Levi's "Fight Stigma" campaign inspired by the HIV awareness efforts in the 1980s.
Do Your Research
LGBTQ+ advertising is about uplifting and celebrating the community from education, charities and advocacy. Many more companies and corporations have increasingly been involved in LGBTQ+ awareness campaigns. It is important to be as inclusive as ever but to also remember why LGBTQ+ advertising is important and who it is for at the end of the day.
If you are a business looking to lead a LGBTQ+ awareness campaign or advertise for pride month, you can get started by making billboards at BillboardsIn. We can help you find the perfect location and even help you design your ad.