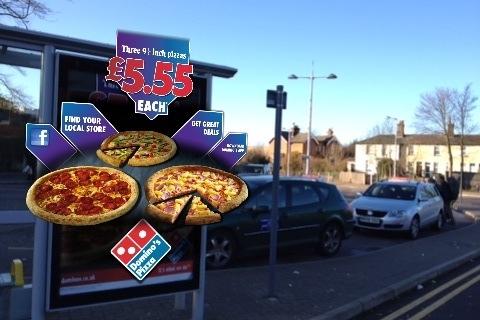 Innovation in Outdoor Advertising  
›
---
Today we are discussing innovation in outdoor advertising. Companies are experimenting with new technologies to advertise for their brand and engage their audience. Brands are already utilizing augmented reality and data-driven targeting, and will soon be utilizing the potential of driverless cars to fully immerse consumers in their advertising. We are going to take a closer look at these innovations in out-of-home advertising (OOH).
Augmented Reality
Augmented reality (AR) integrates the physical, real-world environment with computer-generated digital content such as video, sound, and graphics. AR is most commonly used on apps on mobile devices like SnapChat and Pokemon Go. AR has the ability to create custom interactive content for mass audiences and enhance consumers current perception of an ad. Using AR in combination with OOH increases reach and interactivity of advertising campaigns drastically. AR extends the impact of outdoor advertising by allowing consumers to use their personal smart devices to interact directly with the ad. OOH AR offers brands the right place and right time to engage their audience when they are active, receptive and looking for a distraction. Brands can use AR to increase their OOH interaction by providing incentives for views such as games, discounts and secret messages. AR innovation in outdoor advertising mixes old media with the latest digital technology.  
Data-Driven Targeting
Data-driven targeting providing advertisers with a deep understanding of their target market. With digital outdoor advertising, companies can change their message to match their audience. For example, when the weather changes, companies can change their advertisement and advertise a different product based on the current climate. Companies can also target and track consumers through location data. GPS can monitor the movement from potential consumers allowing a more accurate understanding of how OOH is viewed. With location data, brands can interact with their audience and survey people walking past their billboard.
Driverless Cars Influence on OOH
This one isn't quite here yet but is definitely coming. Driverless cars are the future of transportation in America and offer a huge opportunity for outdoor advertising. With drivers no longer focused on the road, the future of OOH will change drastically. Consumers' attention will be diverted from driving and they will have to focus their attention elsewhere. This will allow outdoor ads of the future to be bigger and brighter than ever before. Not only will outdoor advertising see a change with driverless cars, but the interior of cars can also be utilized to reach your audience. Cars will have a dash screen which can flash in-car visual displays with no concern of driver distraction.
Innovation in outdoor advertising is kick-starting a new era of OOH advertising! Check out BillboardsIn to get your cutting-edge advertising campaign up and running.