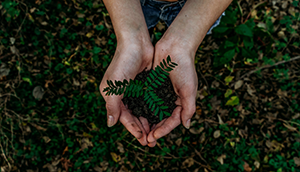 Environmental Marketing Tips
›
---
Globally, people are becoming increasingly concerned about environmental issues and the products they buy. According to a recent study, approximately 75% of US consumers are concerned about the environmental impact of the products that they purchase, and 69% state that a product's environmental impact is a major factor in their purchasing decision. Hence, not only are eco-friendly products better for the environment, they are also a way to attract customers who are looking to buy environmentally-friendly products, over many alternatives.
You can use environmental marketing to communicate the merits of your green products or services to your audience base. Utilizing environmental marketing is a great way to display your organization's ethical practices, sustainable products, and environmentally-safe production processes. 
What is Environmental Marketing?
When referencing "environmental marketing," we mean highlighting the environmental benefits of a product or service to consumers through advertising. These offerings may be environmentally friendly themselves, or through their production process.
Emphasize the Benefits
Brainstorm what makes your products or services eco-friendly. Are they locally produced? Ethically sourced? Free from harsh chemicals and preservatives? If you have an environmentally-friendly feature to your product, make sure to highlight it in your advertising campaigns whether that be through billboards or other ad mediums.
Be Transparent
When letting your audience know about your green practices, make sure you are being as transparent as possible. You will want to get your message out loud and clear, but do not exaggerate the extent of your environmental benefits or cover up negative news. Being honest about the environmental initiatives of your business will build trust and brand loyalty with your customers who count on you to be environmentally responsible.
Gain an Official Certification for Sustainability
Earning an eco-friendly certification for your business can take a great deal of time and effort. However, these certifications are a great way to legitimize the environmental claims for your product or service. Find eco-labels for your specific industry and country and research the process to obtain one. Once you've become certified, make sure to place the certification label prominently on your ad designs and emphasize them in your advertising campaigns.
Partner with Local Environmental Volunteer Organizations
Tackling environmental issues requires teamwork and collaboration. Getting involved with local environmental volunteer organizations is an excellent way to support green initiatives in your area as well as demonstrate to your customers that you are dedicated to environmental issues outside of your business. Some examples are partnering with local environmental organizations by donating a percentage of your sales to them and organizing volunteer retreats to support them.
Do your research by selecting volunteer organizations that align with your business and work together to create environmentally friendly advertising campaigns that will benefit both of your organizations.
Are you looking to create environmental ad designs for your next green campaign? Visit  BillboardsIn to learn more. We can help choose the perfect location for you and even help design your ad!
You can also find us on Facebook, Instagram, or LinkedIn for more information.