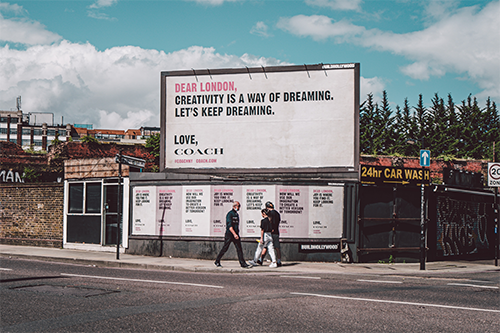 Choosing the Right Ad Format
›
---
Are you struggling to find the right ad format for your next marketing campaign? There are many ways to tackle a marketing campaign to best suit your needs. This blog post will elaborate on the types of ad formats and how they can be beneficial to you and your business.
Digital Billboards
There are many benefits to using digital billboards, mostly thanks to their efficiency and convenience. Firstly, digital ads are available in various sizes and locations making it easier than ever to deliver your message to consumers. Additionally, digital billboard companies have a quick turnaround as you only need a design that meets the billboard company's requirements, and there's no printing or installation involved. Once the design is submitted and approved, a digital billboard can go live in as little as a few minutes. 
Static (Traditional) Billboards
Just because digital billboard ads are all the rage, this does not mean static billboards don't have their unique perks. An advantage of static billboards is that they have the exclusive use of ad space, which allows for constant exposure and brand recognition. In addition, one can be more creative with the billboard borders such as using extensions, and cutouts to drive greater impact. Moreover, older commuters are more likely to pay attention to traditional billboard ads compared to digital billboards due to their familiarity with them.
Digital Trucks
You might consider mobile billboard advertising as a fresh and exciting way to advertise your business in your local town or city. Unlike digital and static billboards, digital trucks go along with the customers whether they are walking on streets, driving in traffic, or waiting at bus stops. What's more, is that mobile billboards are highly visible with about 89% of people noticing mobile billboards. Another unique benefit of billboard trucks is that they can go places that traditional and digital billboards cannot such as suburban, residential, and other out-of-reach places that get overlooked.
TV Screens
Last but not least, using TV screens for advertising provides several advantages, such as a wide reach, high impact, dynamic content, and targeted advertising. TV screens are common in public places, making it an efficient way to reach a general audience. Additionally, TV screens offer dynamic content such as videos, animations, and live feeds that create a more immersive experience for the viewer. Moreover, TV screens can be used for targeted advertising by displaying content relevant to the location or audience, increasing the effectiveness of the advertising campaign. Overall, using TV screens for advertising is a useful way to promote products or services to a broad audience.
At BillboardsIn, we offer a variety of ad formats to choose from, not just including the above. Start creating your marketing campaign today with us and we can help you find the perfect location and even help you design your ad!
You can also find us on Facebook, Instagram, or LinkedIn for more information.