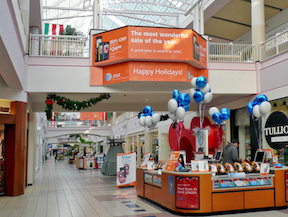 Black Friday Outdoor Advertising
›
---
Millions of people are venturing out for Black Friday this year! Businesses are busy preparing for the biggest day in retail. With so many people anticipating Black Friday and Cyber Monday deals, it is the perfect time to boost your outdoor advertisements. These ads will be one of the last messages the consumer sees while heading to the mall. With an estimated 69% of purchase decisions made outside the home, outdoor ads are the perfect opportunity to reach holiday travelers. Billboards advertising deals will catch consumers attention and drive them to make a purchase before the sale ends!
88.9 million Americans shopped on Black Friday last year, and 129 million shopped on Cyber Monday. 56 percent of consumers have already started their holiday shopping, but say they have a long way to go, and only 12 percent of shoppers are halfway done. With so much hectic holiday traffic, reminding consumers of your brand and deals are crucial.
A Black Friday advertisement should be tailored to the holiday season and focused on what the consumer wants to know. The ad will pique people's interest and have a clear call to action. For Black Friday, the most important factors for shoppers while they make buying decisions are:
74.7% – Sales or Price Discounts
60.9% – Quality of Merchandise
59.4% – Selection of Merchandise
47.9% – Convenient Location
Knowing what is important to the shopper will help you target and attract the consumers you want. In the Black Friday frenzy, your advertisements need to stand out and excite consumers! With so many outdoor advertising options, such as billboards, street furniture, transit advertising, and cinema advertising, you can utilize multiple media formats for your holiday marketing campaign.
Check out BillboardsIn to start your holiday marketing campaign!