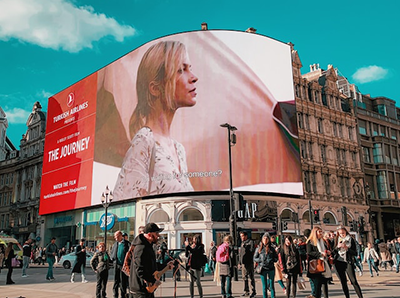 Advertising Trends in 2023
›
---
In a constantly moving and changing world, it can be difficult to keep up with the latest and greatest in advertising technology. However, there are some trends that you simply cannot miss in 2023. From billboards to street furniture to mobile devices, here are BillboardsIn's top 5 can't-miss advertising trends of this year. 
3D Billboards
Though they can be a bit on the pricier, these three-dimensional billboards are great visual gimmicks to catch the attention of an audience, both in-person and online. These billboards have gone viral plenty of times, which opens the door for other mobile and online advertising, as well. Putting your ads in the third dimension makes for not only a visually interesting billboard, but also for your audience to feel highly impacted by your product, even before they purchase it. 
Digital and Interactive OOH ads
Technological advances over the past few years have allowed for valuable innovation in out-of-home advertising. This is why digital outdoor advertising has become such a trending topic.
From digital, carousel-style billboards to augmented reality (360° video) and QR codes, integrating traditional outdoor ads with the technology that has become a huge part of daily life is a great way to engage an active audience. The changing billboards and VR ads allow for audiences to pay more overall attention to your advertisement than a traditional billboard or street advertisement. 
Mobile OOH
If you've ever been on a highway for more than 10 minutes, you've probably seen a semi-truck passing by with an advertisement on the side. By making your advertisement totally mobile, it will reach more overall customers than a static billboard as it passes by thousands of potential consumers. These fast paced ads are more memorable to customers because of both their eye-level marketing and the quickness with which audiences must consume the information. 
Cross-platform campaigns/Smart billboards
Many companies and products are finding success by utilizing OOH ads as just one part of their total advertising campaign. By connecting your out-of-home ad — such as a smart billboard or kiosk — with mobile and video advertising through QR codes, social media, mobile data, and geotagging, your company is ensuring that potential customers will remember your product as they see your specific and targeted ads. Not only this, but by spreading your reach to mobile devices and the online space, you are creating an easier and more immediate way for consumers to interact with your product. 
Creative and Eye-Catching Designs 
In order for your OOH ad to be successful, it needs to draw audiences in. While getting your ad out there is extremely important, it is similarly vital for your ad to be creative enough to hold an audience's attention as they pass by. From colorful designs to clear and stylized fonts, every graphic choice matters when it comes to advertising your product. Design can tell audiences about your product and company values in one fell swoop. 
—
BillboardsIn wants to help you create the best and most successful out-of-home advertisement possible for your company. From our vast selection of billboards and other OOH ads to our phenomenal design team, BillboardsIn can be of service to your success.