Alexandria is a metropolitan city home to over 100,000 people and is located 6 miles from Washington, DC. Being so close to the capital means that Alexandria has the same advertising and billboard potential. Tourists traveling to the capital take Interstate 95 and Interstate 395, both of which run through Alexandria. This makes billboard ads along these highways a very effective advertising strategy. The tourism lines can also use bus and billboard advertising to attract their target audience.
There are also many shopping centers in Alexandria such as the Landmark Shopping Center and Arlandria Shopping Center that can be used for outdoor advertising.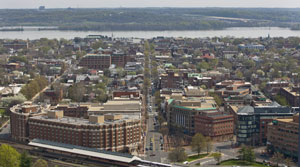 What Our Users Are Saying...
"I wanted to promote my company through the use of out-of-home advertising in high traffic areas in Chicago, and BillboardsIn.com made the process of finding the best advertisement so easy. When it was time for another advertising campaign, I knew BillboardsIn.com would help me find a competitive advertising quote."
- Mike Davis
About Alexandria, VA
Zip codes: 22301, 22302, 22303, 22304, 22305, 22306, 22307, 22308, 22309, 22310, 22311, 22312, 22313, 22314, 22315, 22320, 22321, 22331, 22332, 22333, 22334, 22336
Population: 150,006