Toledo is known as "The Glass City" and is home to over 275,000 residents. There are numerous effective advertising opportunities throughout the city including in downtown. Utilize the cultural venues such as The Peristyle, the Toledo Opera, and the Toledo Museum of Art with out-of-home advertising.
Target your audience with outdoor billboards or mobile billboards in the many universities located in Toledo. Bowling Green State University and the University of Toledo are two perfect possibilities for high traffic outdoor advertising to potentially capture thousands of new customers. The highways that run through Toledo also provide billboard options. Billboards on I-75, I-80 or I-90 would yield additional high traffic exposure of your business.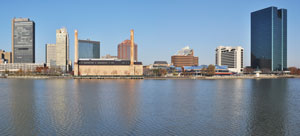 What Our Users Are Saying...
"I wanted to promote my company through the use of out-of-home advertising in high traffic areas in Chicago, and BillboardsIn.com made the process of finding the best advertisement so easy. When it was time for another advertising campaign, I knew BillboardsIn.com would help me find a competitive advertising quote."
- Mike Davis
About Toledo, OH
Zip Codes: 43601, 43602, 43603, 43604, 43605, 43606, 43607, 43608, 43609, 43610, 43611, 43612, 43613, 43614, 43615, 43617, 43620, 43623, 43624, 43635, 43652, 43653, 43654, 43655, 43656, 43657, 43659, 43660, 43661, 43666, 43667, 43681, 43682, 43697, 43699
Population: 316,238