Grand Rapids is nicknamed "Furniture City" and is home to over 180,000 residents. Being home of former president Gerald R. Ford, Grand Rapids has a large tourism industry. One effective advertising opportunity is billboards in John Ball Park, Belknap Hill, and the Gerald R. Ford Museum where he is currently buried.There are also out-of-home advertising possibilities downtown near venues like the DeVos Place Convention Center and Van Andel Arena.
Grand Rapids also offers digital signage ads in Fifth Third Ballpark home of the minor league baseball team the West Michigan Whitecaps. The major highways serving the city are another outdoor advertising possibility. Billboards on I-96, I-196, I-296 or U.S. 131 would yield high traffic billboard exposure of your business.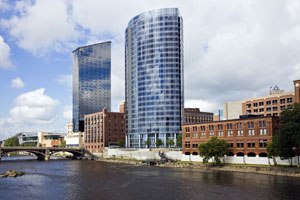 What Our Users Are Saying...
"I wanted to promote my company through the use of out-of-home advertising in high traffic areas in Chicago, and BillboardsIn.com made the process of finding the best advertisement so easy. When it was time for another advertising campaign, I knew BillboardsIn.com would help me find a competitive advertising quote."
- Mike Davis
About Grand Rapids, MI
Zip Codes: 49501, 49502, 49503, 49504, 49505, 49506, 49507, 49508, 49509, 49510, 49512, 49514, 49515, 49516, 49518, 49523, 49525, 49530, 49544, 49546, 49548, 49550, 49555, 49560, 49588, 49599.
Population: 193,710