How To Design a 25′ x 60′ Digital Billboard Ad
Use the guide below to help you design the perfect 25′ x 60′ Digital Billboard.
Need help? Email support@billboardsin.com and our dedicated team of billboard experts will be happy to assist.
Art Specifications: 25′ x 60′ Digital Billboard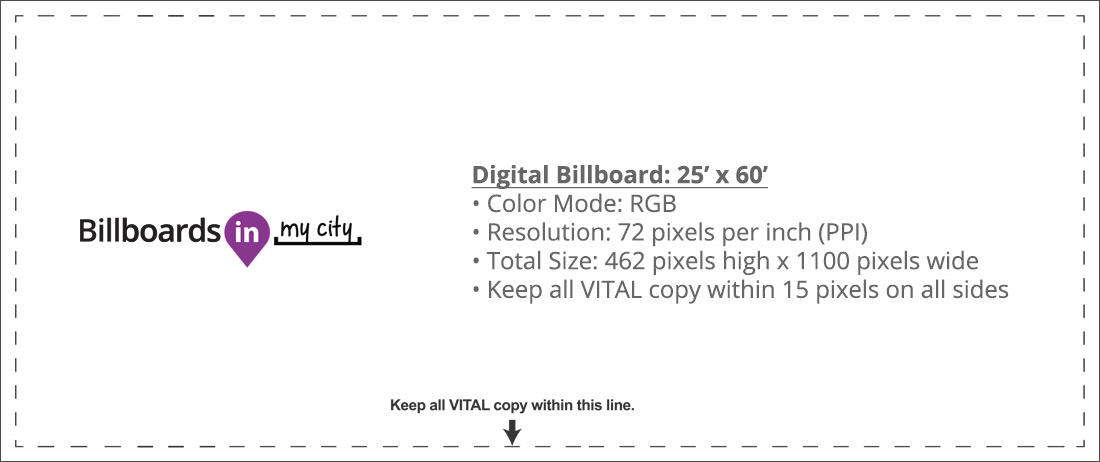 File Format Specifications
Image files should be saved in RGB color mode, sized at 72 pixels per inch (PPI), and 462 pixels high x 1100 pixels wide. Keep all VITAL copy within 15 pixels on all sides. The file formats acceptable for upload are JPG or PNG.
Download a Template
If the above was confusing, don't worry! We understand that not everyone has experience creating and saving images on a computer. Click here to download a template image file that meets all of our requirements and displays guidelines for bleeds.
Ready to Upload Your Artwork?
If you have a purchased billboard and need to upload art, click the button below to visit your campaign dashboard and take the final step toward advertising superstardom!