How To Design Digital Billboard 10:21: 10′ x 21′ • 10.42′ x 22.67′ • 10.5′ x 22.75′ • 11′ x 23′ • 12′ x 24′ • 12′ x 25′ • 14′ x 28′ • 20′ x 40′
Use the guide below to help you design the perfect Digital Billboard 10:21.
Need help? Email support@billboardsin.com and our dedicated team of billboard experts will be happy to assist.
Art Specifications: Digital Billboard 10:21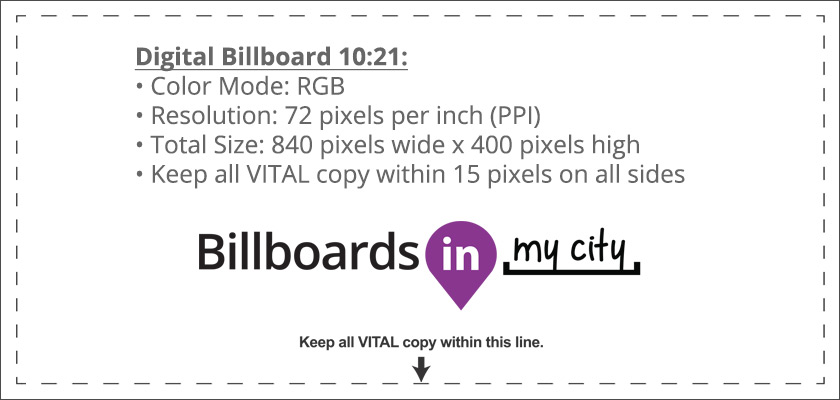 File Format Specifications
Image files should be 840 pixels wide x 400 pixels high, saved in RGB color mode, and sized at 72 pixels per inch (PPI) for digital resolution. Keep all VITAL copy within 15 pixels on all sides. The file format acceptable for upload is uncompressed JPG.
Download a Template
If the above was confusing, don't worry! We understand that not everyone has experience creating and saving images on a computer. Click here to download a template image file that meets all of our requirements and displays guidelines for bleeds.
Ready to Upload Your Artwork?
If you have a purchased billboard and need to upload art, click the button below to visit your campaign dashboard and take the final step toward advertising superstardom!