How To Design a 22 x 10 Mobile Billboard
Mobile billboards are a powerful form of advertising because their mobility allows them to capitalize on peak times and locations. A 22 x 10 mobile billboard offers 220 ft2 of design space to craft the right message for the intended audience. To effectively do so, designers should be mindful of color, image, and font choices used. These all play a factor in how easily your message can be absorbed in a matter of seconds and at varying distances. For best practice, use easy-to-read fonts, minimal copy, and ensure that the overall display is not cluttered with too many design elements. When properly done, a 22 x 10 mobile billboard will certainly catch the attention of consumers to make a noticeable impact.
Art Specifications: 22 x 10 Billboard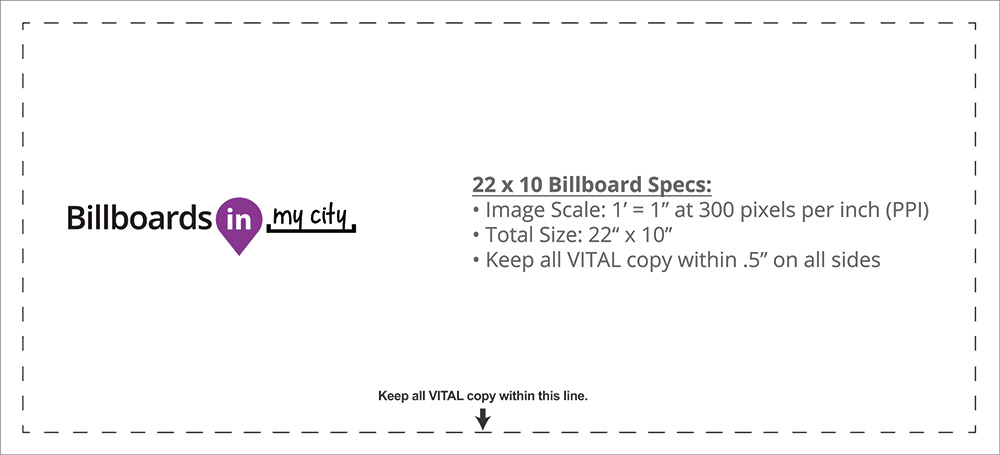 File Format Specifications
Image files should be scaled so that a one inch in the image equals one foot on your printed billboard. Your file size should be should be 22″ x 10″ at 300 pixels per inch (PPI) for hiqh quality printing. The file formats acceptable for upload are JPG or PNG. All colors should be CMYK and all layers should be flattened.
Download a Template
If the above was confusing, don't worry! We understand that not everyone has experience creating and saving images on a computer. Click here to download a template image file that meets all of our requirements and displays guidelines for bleeds.
Ready to Upload Your Artwork?
If you have a purchased billboard and need to upload art, click the button below to visit your campaign dashboard and take the final step toward advertising superstardom!