How To Design a 20 x 10 Mobile Billboard
A 20 x 10 mobile billboard is an impactful advertising option for any-sized business. It's twice as long as it is tall and has 200 ft2 of workable space to design an attention-grabbing message. These 20 x 10 mobile billboards can be used to build brand awareness, boost sales, and drive more traffic to your business. For best practice, copy should be concise using around 7-10 words and formatted into readable fonts. Ideally, any images used like company logos should leverage the central message and be prominently displayed. By creating a design with these elements in mind, a 20 x 10 mobile billboard will have optimized viewability to further engage the desired audience.
Art Specifications: 20 x 10 Billboard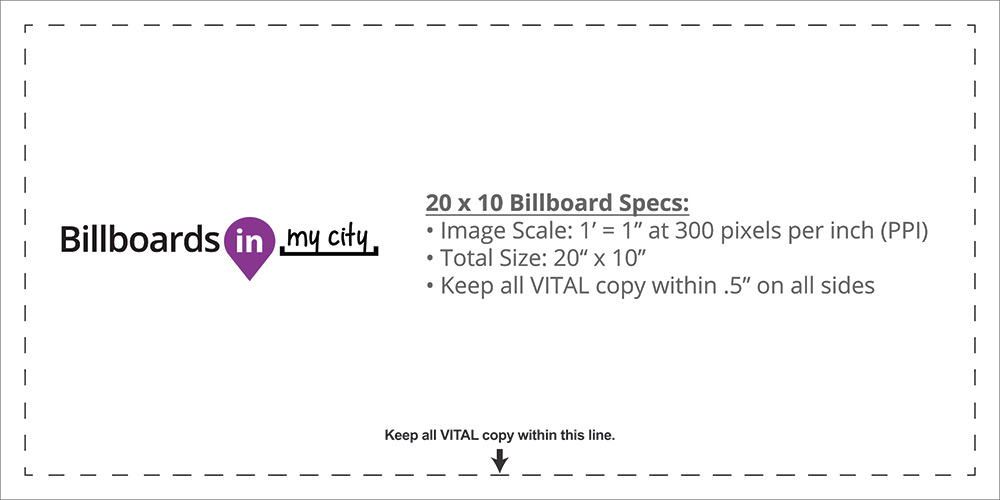 File Format Specifications
Image files should be scaled so that a one inch in the image equals one foot on your printed billboard. Your file size should be should be 20″ x 10″ at 300 pixels per inch (PPI) for hiqh quality printing. The file formats acceptable for upload are JPG or PNG. All colors should be CMYK and all layers should be flattened.
Download a Template
If the above was confusing, don't worry! We understand that not everyone has experience creating and saving images on a computer. Click here to download a template image file that meets all of our requirements and displays guidelines for bleeds.
Ready to Upload Your Artwork?
If you have a purchased billboard and need to upload art, click the button below to visit your campaign dashboard and take the final step toward advertising superstardom!